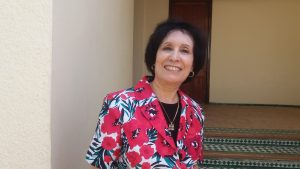 Dear Colleagues,
I am happy to serve as President of AMEWS and be part of a distinguished and inspiring community of scholars. It is an honor to carry on the legacy of previous presidents and build on the work they have so brilliantly accomplished.
We have launched the work for organizing the first conference of AMEWS in the Middle East.  The conference, in Beirut in March 2021, already has many submissions and funders. The goal of the conference is to engage more scholars, especially early career scholars,  graduate students, and non-academic organizations from inside the Middle East in AMEWS.  AMEWS has always sought to draw scholars from the Middle East and North Africa.  While scholars from the region have been underrepresented in AMEWS, the hope is that this conference will open new corridors of cooperation and collaboration. Opening novel avenues of research while continuing to enhance reflection on traditional topics will strengthen AMEWS' pioneering leadership in Middle East Women's Studies. 
As President of AMEWS and as a scholar from inside the region I have great hopes of implementing the core goals of AMEWS and help expanding their geographical reach. The Middle East and North Africa is characterized by a complex and deep-ingrained multilingualism and a pivotal role of nascent disciplines like Language and Gender in understanding them. I count on the help of colleagues in AMEWS to help me achieve this by creating appropriate task forces. Such explorations will also allow recommendations, not least among them topics for JMEWS outstanding research.
I invite you to join me and our AMEWS leadership team to increase the visibility of AMEWS and widen its membership.
Fatima Sadiqi
AMEWS President
Professor of Linguistics and Gender Studies
Sidi Mohamed Ben Abdellah University, Fez, Morocco
November, 2019